Instagram feeds used to be part of every Shopify theme back in 2019.
Themes usually had a section for the home page that displayed a grid of images from Instagram.
It would take just a few clicks to connect to your Instagram account and keep your feed in sync.
Unfortunately that's no longer the case. Instagram updated its integration code (API) either due to privacy laws or Facebook policy, and it became impossible for themes to include Instagram.
So here are a few modern ways to add an Instagram feed to your store.
1. Use an Instagram Feed App.
This is a good option because it's cheap in most cases.
Most of these apps even have a free plan, but they are limited in terms of design options, so I usually recommend getting one of the basic plans for around $5/month.
I'll break this down and compare the the top instagram apps below.
It isn't great to have an app for every tiny feature though. Scroll further down to see other options.
(Simplest Instagram feed app)
This is a great app if you're just looking for a basic instagram feed with no hassles but also without many features or control.
Pros:
Very simple to set up. One-click connection to Instagram, then add the block to the page. Looks good out of the box.
Seems very stable and reliable - its simplicity means there is less that can go wrong.
Cons: 
Limited design customization options compared to other apps with similar pricing.
No product tagging on the free version
No hotspots (shop the look) function, even on paid plans.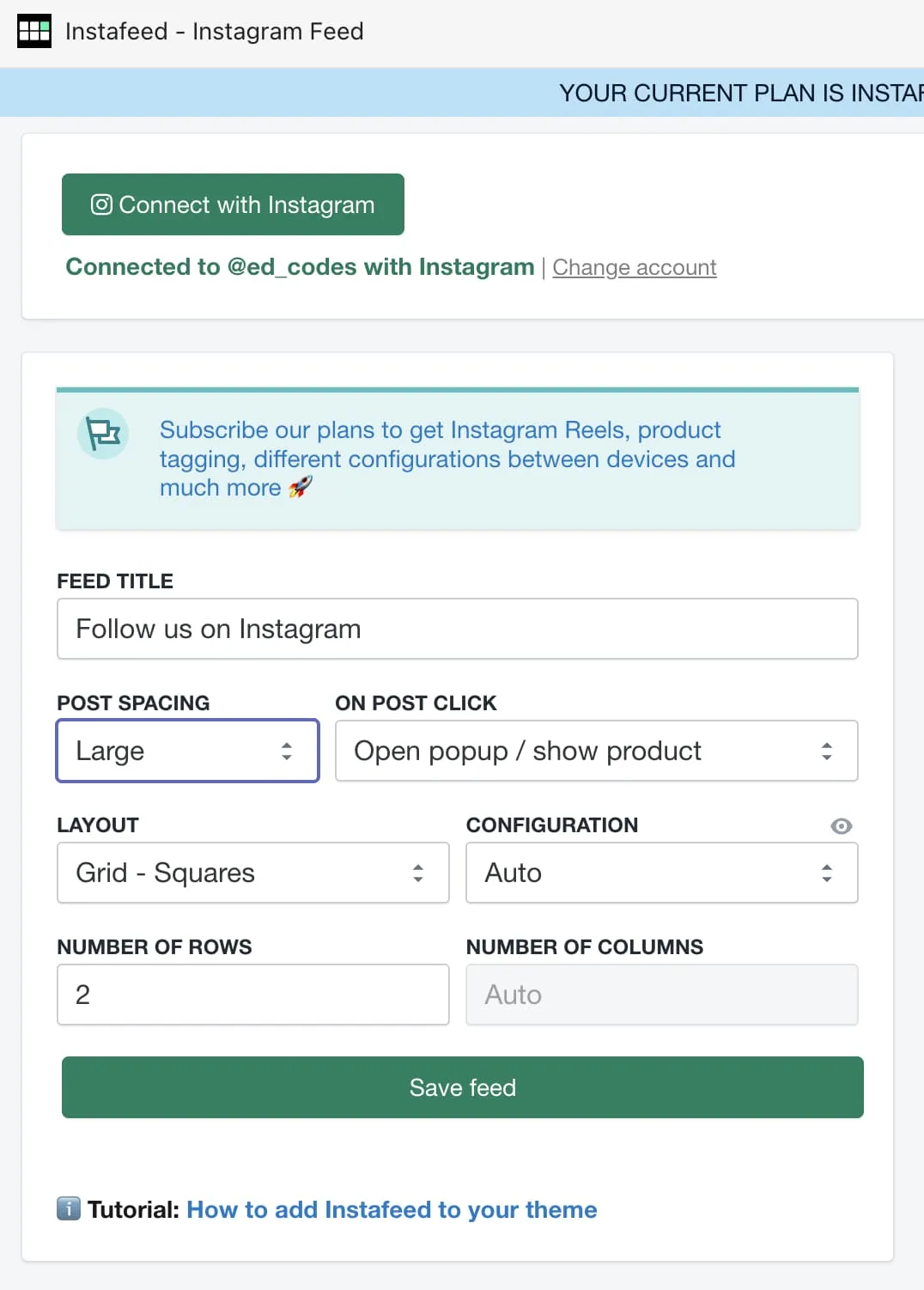 Design options are rather basic, but easy to use.
Pricing: 
Free plan
Desktop - Choose number of rows, best to leave auto for columns because you can't control mobile.
Choose between grid and slider, and spacing between images
No control over mobile layout - default is 2x2 images.
No Reels
No product tagging
Instafeed Pro - $9.99 /month
This is the plan I would get. But other apps offer more for the same price.
Product tagging
Reels
Proper layout control (mobile and desktop)
Up to 3 feeds from different accounts (but why?)
Instafeed Plus - $19.99 /month
Unlimited number of feeds
Filter which of your posts are displayed based on hashtags
(Best Overall, most advanced features)
The lite plan for $9.99/month is in my opinion, the best bang-for-your-buck instagram feed app. This being said, all of the higher plans are quite pricey.
This is also an advanced image gallery app, not just an instagram feed. It can use other sources besides just your Instagram.
For example, tell it to load images with a certain hashtag or @mention and it will get the images from all over instagram, not just your account. So you can load your customers images when they mention your company. You can also upload images to Covet Pics manually.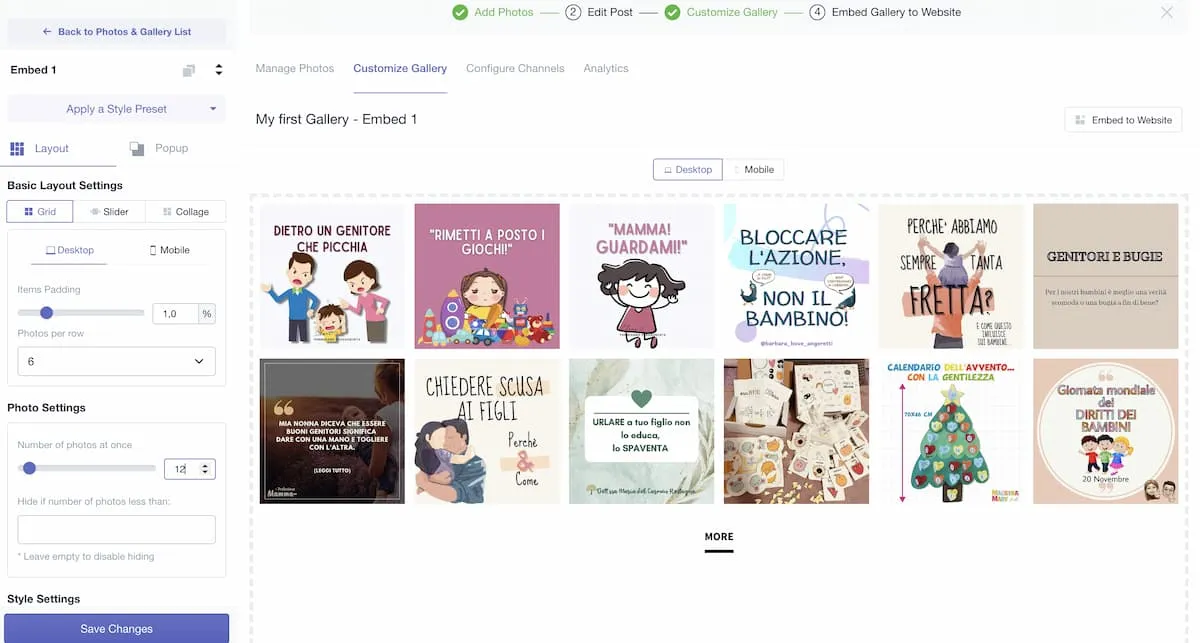 Pros: 
Advanced design options. Choose from Grid, Slider or Collage - and plenty of settings for paddings, columns, rows, fonts, and colors.
Can use hashtags or mentions as a source of images - not just from your Instagram account, but anything on Instagram with a certain hashtag (e.g. your customers instagram posts where they hashtagged or mentioned your company).
Tag Shopify products in posts or add links to images
Comes with built-in Photo reviews app so you can create feeds from your customers reviews.
Advanced analytics
More ability to customize using code (if you're working with a developer)
Sends emails to your past customers to request reviews
Cons:
No free plan - starts at $9.99/month
Getting the hashtags and mentions feature is kind of expensive (Growth plan).
Getting hotspots is really expensive (Premium plan)
Longer setup than Instafeed app. You get a lot of choice, but also decisions decisions…
Lite Plan - $9.99/month
Probably the best plan. A great deal for the money. Much more customizability and features than Instafeed app.
Comes with photo reviews app
Lots of pre-designed layouts
Send up to 200 review request emails to customers
No hotspots
No hashtags
Still shows branding (but its barely noticeable - just small cube)
Growth Plan - $29.99/month
5 galleries
Use # hashtags or @ mentions as a source of images. Images don't need to come from your own Instagram account. You can use images customers have posted with a certain hashtag or mention.
remove branding
500 emails
Premium Plan - $79.99
Hotspots (shop the look)
50 galleries
2000 review request emails
Custom email sender domain
(Also has Tik Tok)
Probably the good app if you want to include TikTok posts in your feed. But as an app it's simply not as good as Instafeed or Covet Pics.
The free version is quite limited - you have to choose which page you want to feature the widget on. It seems like app blocks don't work as they normally would (where you can add them to any page).
You get the Tik Tok feed feature from $9.90 /month. And this actually works pretty well, opening a popup with embedded TikToks. You can see it in action on their demo store.
(Optimized for Instagram Stories)
If you're a heavy user of Instagram Stories and Highlights, but you don't make normal posts that much, then this might be the app for you.
It's got two very cheap plans (relative to the other apps). The basic plan is $3.95/month and the Unlimited plan is $6.95/month.
The free plan gives you an Instagram feed - but without stories & highlights - which is kind of the main strength of the app. So there isn't much point in getting the free version.
So if you're going to use this app, I recommend at least paying $3.95/month.
2. Use an all-in-one app that has an Instagram feed as one of it's features
This is a great option if you also need other marketing features or apps, like product reviews, related products, pre-orders, trust badges and icons etc…
Instead of having a separate app for each one of these, you can use an all-in-one app.
The benefit is that you don't slow down your store with multiple different apps. Having one app handling everything is much better for performance.
It's also cheaper than having lots of different apps for every feature.
Vitals is an all-in-one app that offers an Instagram feed, along with plenty of other features.
Vitals is $29.99/month, which is more expensive than if you just get an app for Instagram only.
However, if you need any of the other features it offers then it becomes worth it. If you replace 2-3 different apps with Vitals, it becomes a bargain.
You might even use some features from Vitals that you never even considered. It's kind of fun to experiment with your conversions by adding various marketing features - related products, trust badges and more.
The Vitals instagram feed is shoppable - meaning that you can link a product on your store to the Instagram image. On the other hand, it's pretty basic compared to the instagram-specific apps listed above.
Elfsight is not a Shopify app. Rather it's a tool that lets you embed widgets to any website, on any platform, not just Shopify.
First you build your widget using their designer, then you get an embed code that you add to your store using the "Custom Liquid" or "Custom HTML" section that is available in your theme.
It's rare that you would choose this option rather than an app, but I'm including it just in case you have some niche situation where you don't want to use an app, bur prefer an embed.
They actually have a Shopify app too, but it's not one of the popular ones.
3. Use a page-builder app with an Instagram section
A landing page builder like Pagefly or Shogun will easily let you add an Instagram feed to any page you want.
This is another great option if you don't want to invest in an app specifically for an Instagram feed.
The basic plan for most page builders costs around $30. This is around the same price as the more advanced plans on Instagram apps, (which you need if you want more control over the design).
The good thing about page builders is that they give you a lot of control over the design, since that is what they're made for.
The downside is that you won't be able to set up more advanced features that Instagram apps often give you, like hotspots for "shop the look". The functionality will just be a basic instagram feed.
Can you still add an Instagram feed to Shopify without an app?
It's possible, but you need to be a web developer.
In the past everyone used instafeed.js - a popular instagram feed javascript plugin that can be used for any website, Shopify included. But ever since the Instagram API update, that hasn't been an option.
The evolution of instafeed.js is Behold. A sleek solution made by the same developer behind instafeed.js.
If you're working with a developer (or you are a developer) then I think this is the most high-quality way to integrate an instagram feed into a Shopify store, without the use of any Shopify Apps.
What's the best Free Instagram Feed Shopify App?
Almost all the apps listed above have a free plan, but the features they offer you with that free plan differ.
If you definitely don't want to pay a single penny for an Instagram feed, then I would recommend Instafeed.
The free plan of Instafeed simply does the job with no fuss. There aren't many options and settings, but it's simple to set up, it works reliably, and it's free.
But if you're looking for the best deal, then I think Covet Pics is the best for the money. For $9.90/month you get a lot of features and customizability that other apps are simply not matching.
Why do you need an Instagram feed on your Shopify store?
An Instagram feed can be a great way to showcase your company's personality and give visitors a sense of your brand.
It can also help to drive traffic to your Instagram page, where people will potentially follow your account.
A few other reasons for having an instagram feed on your Shopify store:
Showcasing your products: An Instagram feed can be a great way to show off your products in action, giving visitors a better idea of how they can use it or how it will look. This can be especially effective if you sell good looking products.
Building trust and credibility: An Instagram feed can help to build trust with your visitors by showing them that your company is active and engaged with its audience. It can also help to establish your company as a thought leader in your industry.
Increasing customer engagement: An Instagram feed can encourage customer engagement by giving visitors a way to comment on your posts. This can help to create a sense of community around your brand and increase customer loyalty.
Boosting your SEO ranking: Google uses social media activity as one of the factors when determining a website's relevance and authority. So having an active Instagram feed on your website can also help to improve your search engine ranking.
Providing inspiration: An Instagram feed can also provide inspiration for your visitors, whether it's by showcasing your latest products or by sharing content from other customers or hashtags.
‍