Happy Halloween! 🎃
Here are the highlights from October:
Officially launching my Patreon
2 new videos:

Hiding empty Metafield sections & blocks
Exploring native Shopify Bundles

ChatGPT can generate images! 🤯
Storytime: Migrating my blog with Make.com
---
📹 Hiding Metafields when they're empty
You guys might have seen this as a newsletter post already.
This is about hiding a section or block on products where it's just not applicable. For example, an ingredients block should be shown on food products, but not on clothing.
It's a feature that Shopify is sorely missing so I made a video that goes more in-depth.
📹 Multipacks with the Shopify Bundles app
You might know that the Shopify Bundles app can create bundles of several different products.
But did you know that you can also create "bundles" out of just 1 product? In other words this creates multipacks AKA quantity bundles or volume discounts.
Sure this was possible before with other apps, but the Shopify Bundles app creates a much more native solution that behaves more like a regular product.
---
🌐 I published my new website!
Check out ed.codes for my newly redesigned website, built on Astro. It's still a bit raw, I always publish things before they are 100% ready 😅.
The visual design is by my girlfriend - kristi.digital. She's currently freelancing so if you're looking for a custom-designed personal website, don't hesitate to reach out at hi@kristi.digital.
---
Patreon - now taking content requests!
I mentioned back in August that I was launching a Patreon but it wasn't really ready. Well, it's finally done.
Here is a quick recap of the main benefits:
Priority video requests - Access to a video request form + voting for the next video.
Get listed as a member on ed.codes/community, showcasing your store or freelance service.
If you have a challenge or an issue with your store, I could potentially tackle it in a video tutorial on your actual store, implementing a solution for free.
This last one is very experimental but could be the most valuable. I'm keen to hear your opinions.
I'd love to have a small group of stores that I can feature in videos. In exchange, you are basically getting small development tasks done for free.
I can't promise that I will solve all your requests or that I will use your store at all, but it's at least a chance to be part of that group and have more direct contact with me.
Interested? Sign up below!
---
AI news
🤖 ChatGPT4 can now generate images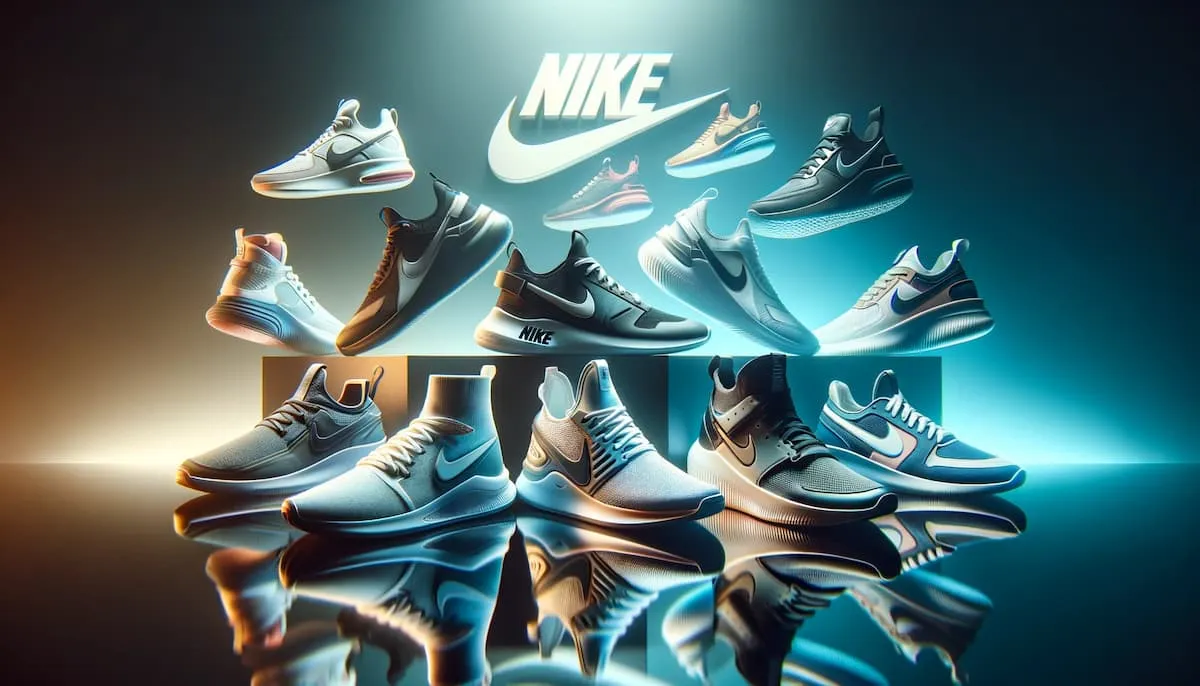 I simply asked for "a Nike sneakers collection banner". No other details.
Previously, AI art was kind of annoying to access, the best tool was Midjourney which only worked through Discord. Also, the prompt needed to be very detailed for a good result. And AI tools always messed up text.
The people using it were mostly artists, not entrepreneurs.
I think that's about to change with the inclusion of DALL-E in ChatGPT4 (the $20/month paid version of ChatGPT).
It was so easy to generate the above result! I really didn't give any details.
All I said was "I need a banner image for a Nike sneakers collection".
ChatGPT does the rest - it provides all the prompts for DALL-E to generate a good image.
Here is the prompt it wrote itself:
Photo of a dynamic and sleek banner for a Nike sneakers collection. The background should have a gradient of cool colors to suggest style and modernity. In the foreground, various models of Nike sneakers are arranged in an overlapping, showcase fashion, with a clear view of their designs and colors. The sneakers are on a reflective surface, creating a luxurious and premium feel. The Nike logo is prominently displayed in the upper center of the banner. The lighting is bright and highlights the features of the sneakers, and there should be a sense of movement as if the sneakers are ready for action. The overall aesthetic should be clean, professional, and appealing to sneaker enthusiasts.
As an artistically-challenged person, I wouldn't have thought of all that myself. But now I can take that prompt and adjust to my requirements.
Read more - openai.com/blog/dall-e-3-is-now-available-in-chatgpt-plus-and-enterprise
---
APP OF THE MONTH
How I use Make.com for automation & connecting apps
I recently had to move all my blog posts from my old Webflow site to my new one built on Astro.
This is a pretty typical task when migrating platforms. I've migrated blogs for stores moving from Wordpress to Shopify too.
Anyway, when the export feature on your platform kinda sucks, you need to figure out another way to get the content across. I was not about to copy & paste everything! Plus there were lots of images in each post that would need to be saved and re-uploaded.
Make to the rescue! Here is what my flow looks like: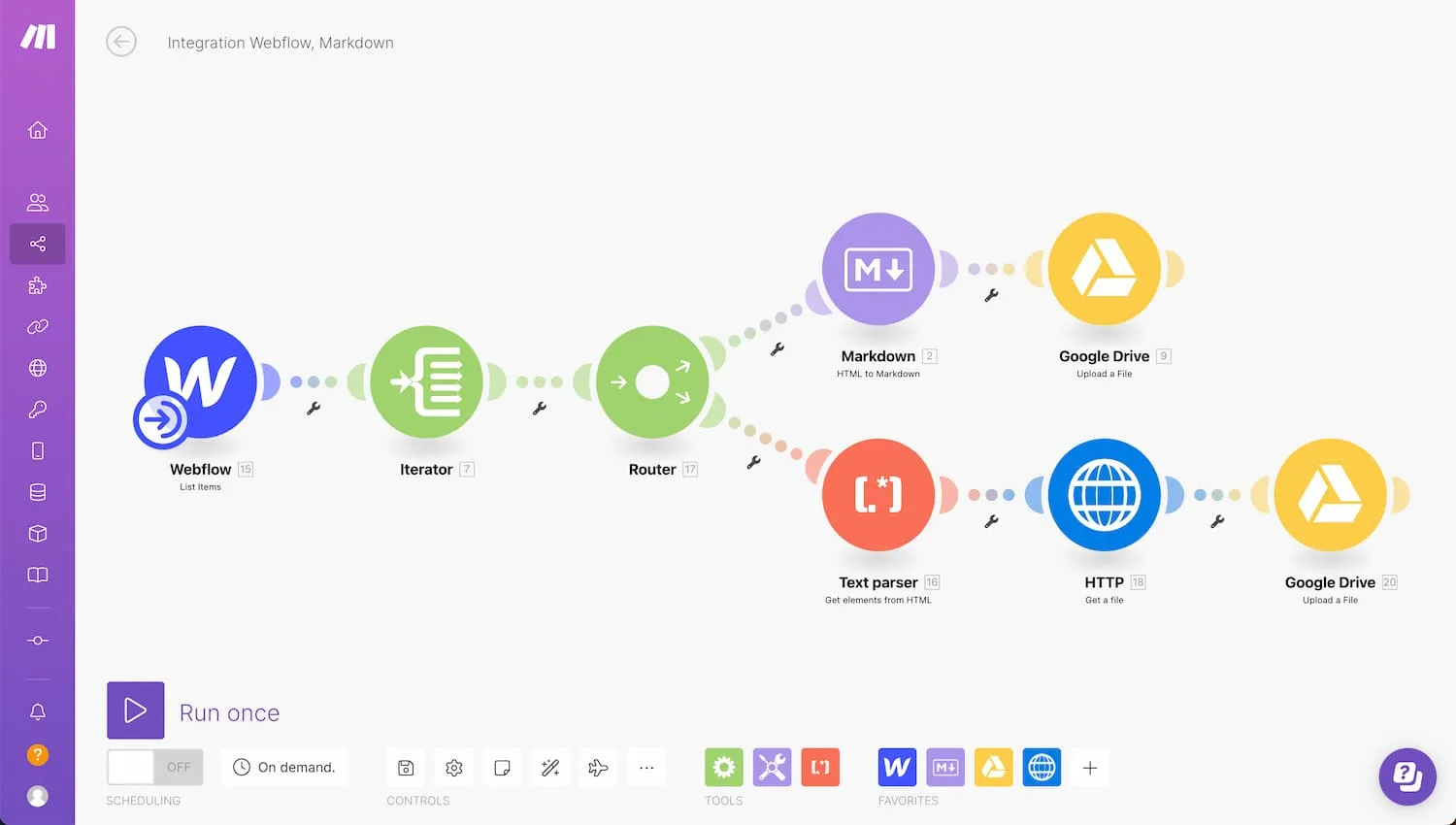 It looks more complicated than it is. It's just taking all my blog posts from Webflow, and doing 2 things to them:
Convert the blog post html to Markdown and upload the file to Google Drive.
Extract the images from each post, and upload them to a folder on Google Drive (also does a bit of renaming to strip out Webflow URL's).
Afterwards, I could just take the files from Google Drive and drag them across to my site.
Anyway, Make is a tool that I wholeheartedly recommend, and I think automation tools like Make, Zapier, and Shopify Flow are quite underrated. People have not realized the possibilities yet.
If you have any repetitive business tasks that you do each month, you can probably automate them. For example, I use it to automatically add Gumroad customers to my newsletter, and for some accounting tasks too.
If you need help with Make or other automation tools, try reaching out. Automation is one of the services I offer and I'd like to do it more often (I enjoy this type of work).
---
If you found this newsletter useful, share it with others by forwarding this email.
If you were forwarded this: Subscribe to the newsletter and also check out my Youtube channel.
Cheers,
Ed