Another Page builder app for Shopify. What sets Replo apart?
It builds very fast-loading, native pages that are added as Liquid files in your theme.
You can keep the pages after unsubscribing from the app.
Figma inspired
Replo is going to be a lot more intuitive for Figma designers compared to any other page builder app.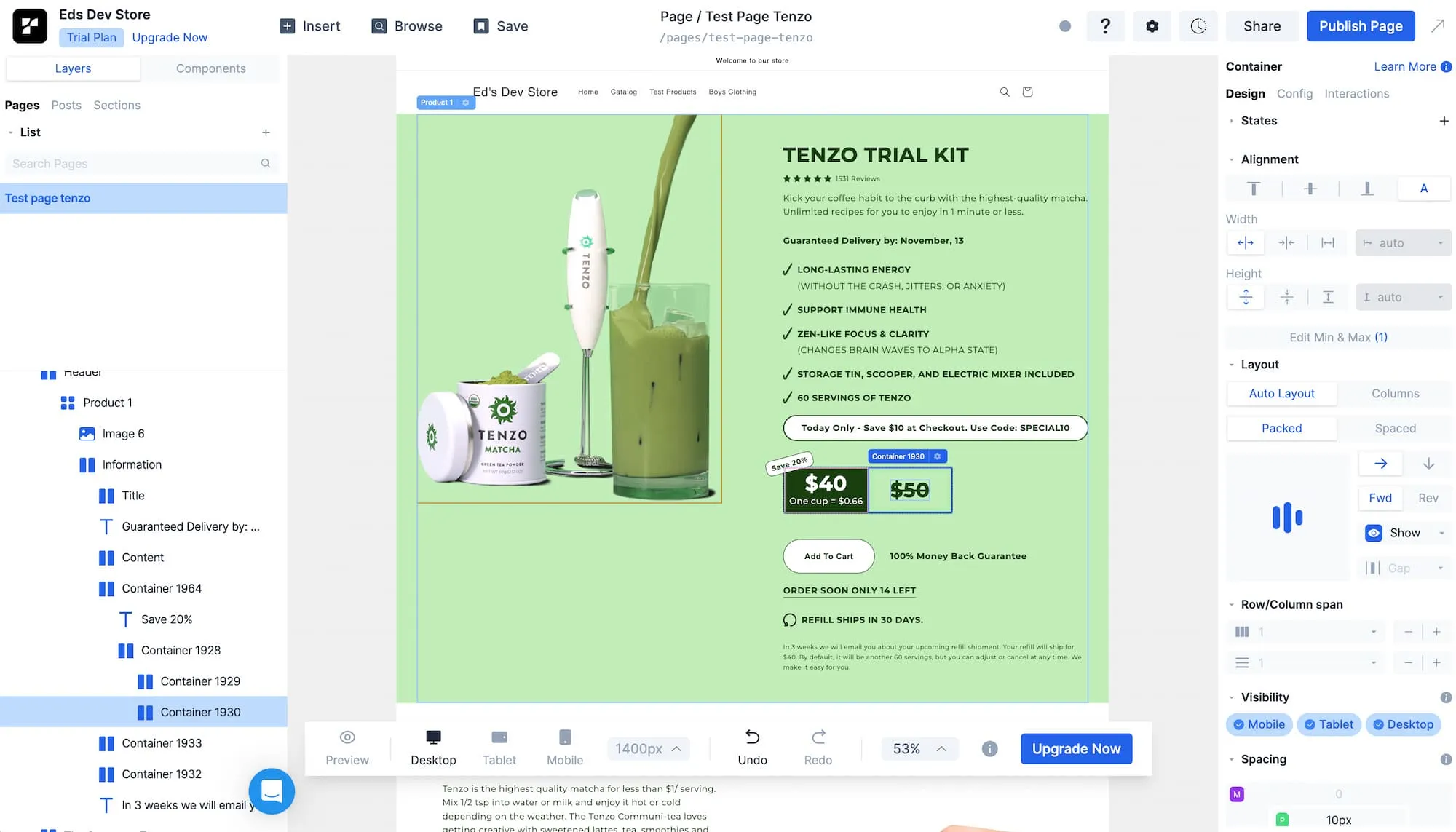 Looks a lot like Figma
Replo uses the Figma terminology of "auto-layout", packed and spaced and others. And its interface is a lot like Figma in general.
If you are good with Figma you will probably be able to jump into Replo right away without any major learning.
If you're copying a design that you built in Figma, it will be pretty easy to move across.
There is even some basic import ability from Figma to Replo. It doesn't look complete yet, but that's because Replo is very new. I expect they will develop this feature a lot more.
But ideally you won't even need to import from Figma. The point is that Replo is a good enough design experience that you can design directly in Replo.
I couldn't imagine designing inside of any other page builder apps.
Fast-loading native pages
If pagespeed is a major concern of yours with other page builder apps, then Replo might be the one for you.
When you build pages using Replo it generates them as Liquid files and writes them directly into your theme.
This is exactly what a web developer would do when building a custom page for your website.
These pages can function without the app even installed, and they don't need many external resources to load.
All this makes them very lightweight, keeping your pagespeed fast.
You can keep your pages after unsubscribing
A common question I get about Pagefly, Gempages, and other page builders is whether you can keep your pages after unsubscribing or uninstalling the app.
The answer is usually no. The pages you built exist within the app, and you cannot keep them without the app.
However, with Replo you can actually build some pages, then unsubscribe, and you get to keep those pages!
The catch is that you won't really be able to edit them either, unless you want to dig around in the code of the page it generated. This code will be minified for speed optimization, so it's not very convenient to work with.
Other Replo features
Build Shopify Sections
Replo isn't just for entire pages.
After building something, you can export it as a Shopify Online Store 2.0 Section.
You can then add that section to any page from within your Shopify theme editor.
You can use that section multiple times across your store, just like any other Shopify section.
Related: Check out my article on adding custom sections to your Shopify store.
Clean & unique interface
Overall I found Replo very pleasant to work with.
The interface is a React app, so it's a lot faster and snappier than other page builders.
You can also move around the canvas freely like in a design app rather than a page builder.
Everything just works really smoothly, and this really speeds up your workflow.
Hundreds of pre-built templates and sections
I'm not a designer, so the pre-built page templates are a life-saver for me.
There are plenty to choose from for every need. Load them up and all you need to do is tweak them a bit. Change the colors, reposition some blocks or remove unneeded elements.
There is also a section library for whenever you need to add a particular section to the page.
You could also use the sections on their own to export and use within your theme editor.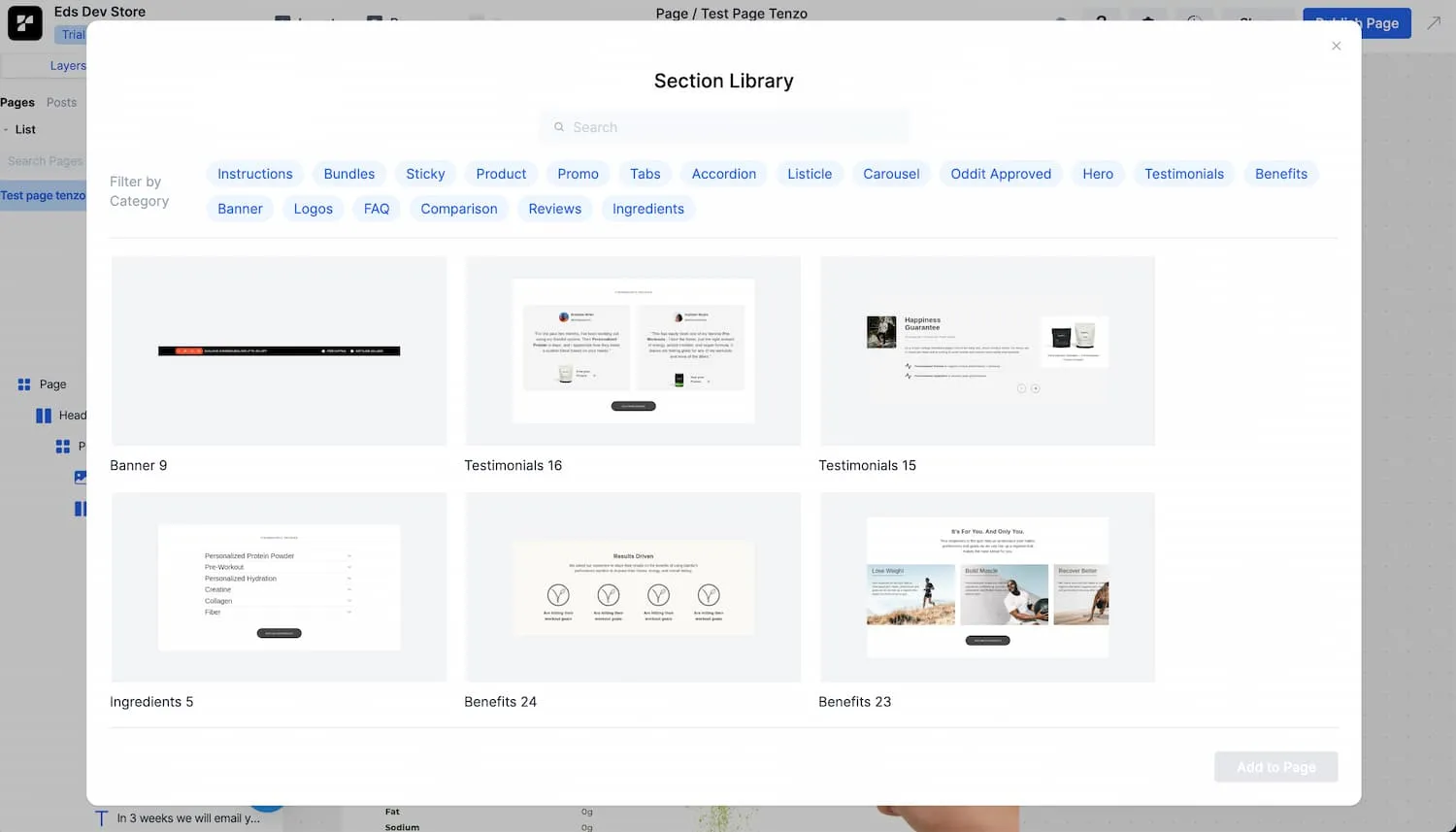 Shopify section library
Blog posts with embedded products
This is a very underrated marketing tactic in Shopify.
Most stores have some kind of blog, but in Shopify it's difficult to include the products you are talking about directly in the post.
Shopify lets you add products in another section below the entire post. Or you can do tricks like embedding the Shopify buy button, but it's a bit cheap.
A much cleaner method is using Replo to write and design the entire blog post.
Your posts will still be published in the correct blog URL - yoursite.com/blogs/news/your-blog-title.
But the design of the blog post will be completely under your control, so you can add products in multiple places within the post.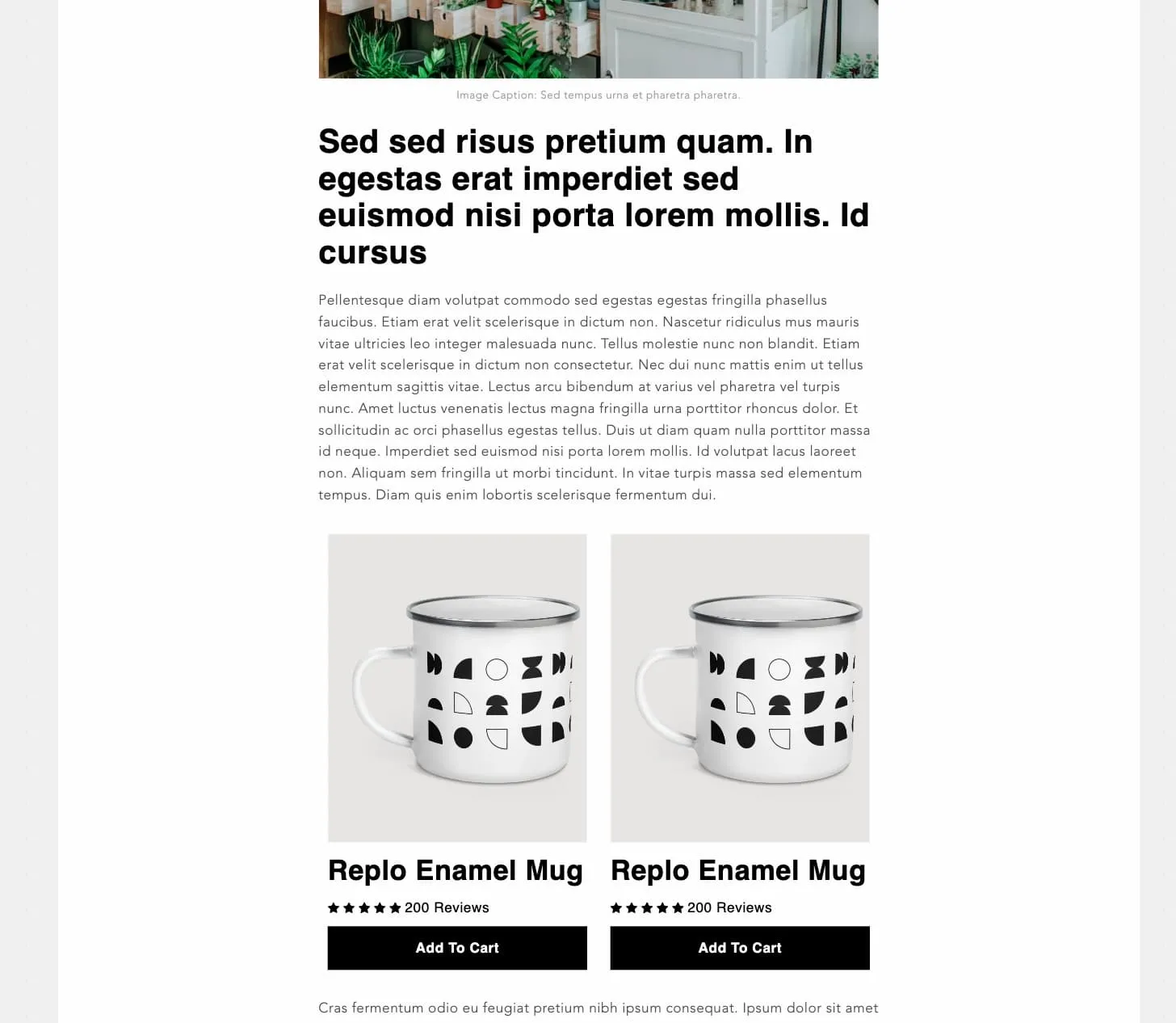 Featured products in the middle of a blog post